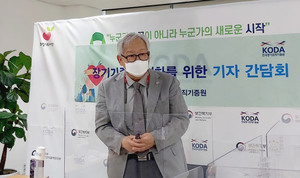 Organ donation on the rise in Korea despite Covid-19
Organ donation has declined due to anxiety over transmission of Covid-19 to other countries, but increased in Korea in 2020, an organ donation agency chief said.
However, more than 35,000 people are still waiting for organ transplants and the public needs to be more active in organ donation, he said.
Korea Organ Donation Agency (KODA) President Moon In-sung stressed the need for a change in social perception of organ donation, saying the local consent rate for organ donation organs by brain death were still too low, at a press conference in Seoul on Thursday.
Last year, the number of organ donations declined in most countries, including those with high rates of organ donation linked to brain death.
According to the Gift of Life Donor Program in the United States, the number of organ donors per million inhabitants (bpm) of Spain has increased from 49.6 in 2019 to 37.4 in 2020. The number in Portugal also fell from 33.7 to 24.6, and that of France, from 33.3 to 22.4, over the same period. These countries had a high number of organ donations.
In contrast, the number of organ donations in Korea rose to 478 in 2020, an increase of 6.2% from 458 in 2019. As a result, Korea has been relatively more active in organ donation. in Asia, according to KODA.
However, 35,852 Korean patients were awaiting organ donation in 2020.
"Five or six patients a day die while waiting for transplants," Moon said. "The brain-dead organ donation consent rate, reported in medical facilities, is approximately 36%. But the actual number of donations is much lower.
Moon attributed the low rate of organ donation to poor social perception. However, ongoing public relations activities and education have helped people turn away from negative feelings about organ donation.
"Negative reports on organ donation continued to be reported between 2017 and 2018, but that atmosphere died down over time," Moon said. Since 2019, KODA has aggressively promoted organ donation, and media reports of organ donation stories have given the public a positive perception, he added.
He said that not only medical schools, but also middle and high schools should have a program on organ donation. Ongoing publicity and education will naturally lead to active organ donation without too many problems, he added.
KODA recently created a collaborative public-private organization as part of the government's plan to promote organ donation and human problems announced in March.
"Only 4% of Koreans want to donate their organs. Our goal is to gradually increase the proportion to 40% by 2050, "said Moon, hoping that there will be no more patients waiting for organs 30 years later.
KODA hosted the "KODA 2021 Online Global Forum" on Friday to share the changing status of organ donation and transplantation amid the Covid-19 crisis and to discuss policies and outstanding issues.